If you're looking for a new Jeep, you may be trying to figure out which color would be the perfect fit for you!
Don't worry; having this dilemma in your mind when buying a vehicle is very normal.
Be it conquering off road adventures, travelling with your family or driving down the city streets, the 2021 new Jeep Wrangler does everything in its own style and elegancy, owing to 12 different eye-catching color options.
Choosing the perfect color for Jeep Wrangler might not be the problem at all for Jeep Wrangler aficionados, because they've their dream vehicle already pictured back in their mind.
However, for the rest of you picking the perfect color can be tough at times. You might feel like a confused child trying to decide what to order from a restaurant's menu which is in fact, a good thing.
Selecting the best color for your jeep entails more than just having a favorite color, even though it is a major deciding factor. So, it's not a bad idea to take some extra time to think out on which color will look best on your car.
A vehicle is your valuable investment so when you look at it, you must be happy and satisfied with the purchase.
Therefore, continue reading this article to help yourself out in selecting the best color for you when purchasing a new Jeep Wrangler from Jeep Nepal this year.
1. Have a glance at the Jeep photo gallery:
This is the very first step while deciding which of the Jeep Wrangler's 12 colors to purchase. Looking at the photo gallery will assist you in visualizing colors and themes that you might get attracted to.
Jeep Wrangler comes in 12 color options and they are:
Bright White
Sting-Gray
Black
Granite Crystal Metallic
Billet Silver Metallic
Hydro Blue Pearl
Firecracker Red Nacho
Hellayella
Snazzberry Pearl
Sarge Green
Chief (vivid blue)
Nacho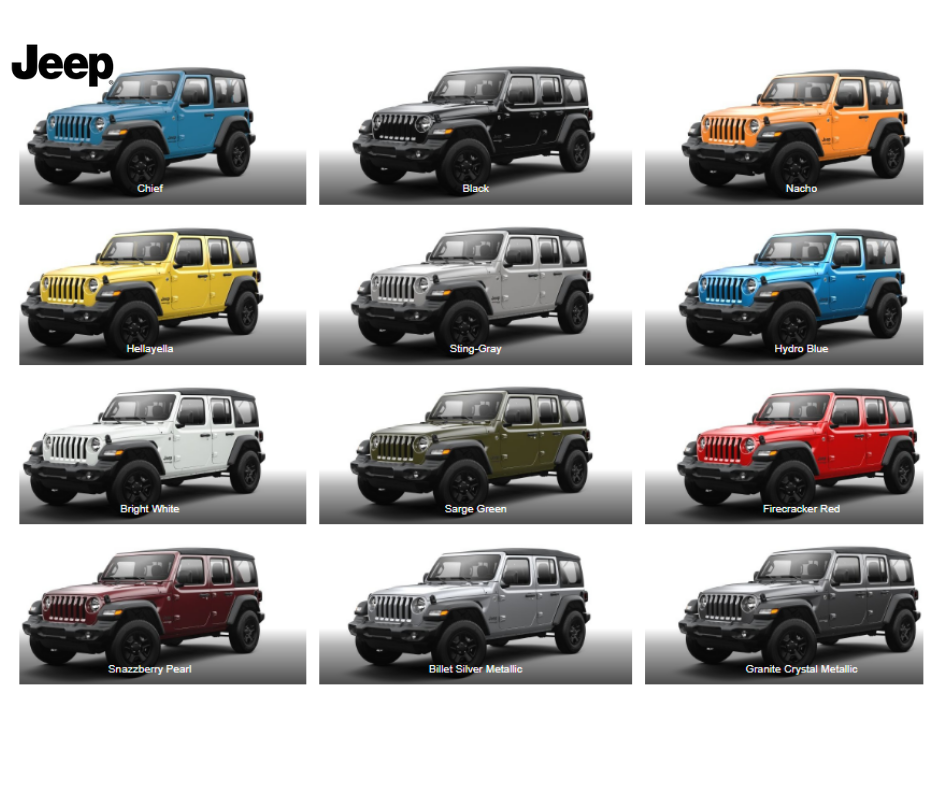 Customers in Nepal no longer have to pick between regular white or black Jeeps because a wide variety of color options are now available here.
So have a proper look at the photo gallery on the Jeep main site and find the one that strikes your eye and heart.
2. Look out for your personal preferences:
Nothing is more crucial than exploring your personal favorite choices while buying a unique vehicle such as an SUV. What matters the most is the color you want for your car, not what someone else suggests or tries to convince you to buy.
If your preference is Firecracker red, whereas your partner prefers blue, your friend suggests chief blue, the salesperson claims he prefers the black version of the Jeep.
So, at the end of the day, what do you think is most important?
You and only your choices! The fact that you have your eye on the red one and would be delighted to have it in the long-run.
So, always make sure to give your preferences the utmost priority after exploring all of the color options available because that's the only thing that matters for you and trust us it's definitely going to be worthy enough for you!
3. Pick a color that best reflects your personality:
Just like your dressing sense reflects your personality, the color of vehicle you drive also represents your personality to certain extent.
Your Jeep speaks through its color so why not choose the one that best suits your identity?
Let's see some of the colors meanings to find out which one is ideal for you:
If you want to drive through city streets with a sense of mystery and pique people's interest, black is the perfect color to go with. With its elegancy, black in general gives off a high-class impression.
If you prefer to drive a vehicle that's as confident as you are, then blue should definitely be the color of your choice. Blue also conveys a sense of honesty and stability.
The color white evokes feelings of purity and innocence. White color vehicles are hardly visible in privately owned cars as this is more of a neutral color.
This color suits perfectly if you want it for your office or commercial purpose. However, if you want more of a clean look SUV, then without thinking much you can pick this color for you!
This is one of the powerful color and anyone who sees it for the first time will be astonished.
The color red would be the ideal choice for an SUV that trumpets its power and speed. Red is a bold shade, so it's a good choice for individuals who simply want their Jeep to appear and feel expressive.
So, with this Firecracker Red Jeep Wrangler, get ready to throw attitude on the road!
If you want to flaunt a corporate look while driving a SUV, you can go with both of these colors as well.
Colors such as orange, green and yellow would be the best match for you if you want more of the sporty look while going for off-road adventures.
4. Consider the resale value:
Upgrades, maintenance and detailing can all help to increase the value of your vehicle. Whether you believe it or not, along with that, the color of your car will also have a significant impact on its value.
Different people have different mindset and choices. However, there are certain colors that naturally attract potential purchasers such as black, white and red, and owning one of them undoubtedly helps you while re-selling in the future.
Popular colors are in more demand, resulting in a better resale value when you sell your car.
5. Think about the vehicle's purpose:
The color you choose is somewhat influenced by how you think to use this vehicle.
Are you going to buy the "Jeep Wrangler" as your family transport/ your personal road tripper or as your own company vehicle?
A white or lighter-colored vehicle is a fantastic alternative for business owners whereas while buying for your family you can choose a darker, neutral, or warmer shade.
In the case of your personal one, the wide options are based in terms of personal preference and cost. You can go with any color you like.
Conclusion:
If there's one thing Jeep has never been afraid of, it's putting bold and colorful colors on their vehicles. Wrangler fans are no longer limited in their color choices, thanks to the availability of many color variations.
So, whenever you plan to acquire this SUV, make sure to have a glance at all these aforementioned points to ensure that your preferences will be met while investing your hard-earned money.
For any further queries related to Jeep Wrangler, feel free to contact us at '9801145545' or '01-4445545. You can visit Jeep Nepal's official website if you are interested to know more about Wrangler's features, specifications, jeep wrangler price in Nepal along with its exclusive image gallery.