Jeep Wranglers are notorious for their flat tops, but who said you can't have style and function? There are many Jeep headlights options that you can get to improve the way that your Jeep looks. These include options such as halogen or LED taillights, fog lights, and more. Whether you're looking to replace a bad taillight bulb or upgrade an existing light, we've got you covered with these great options.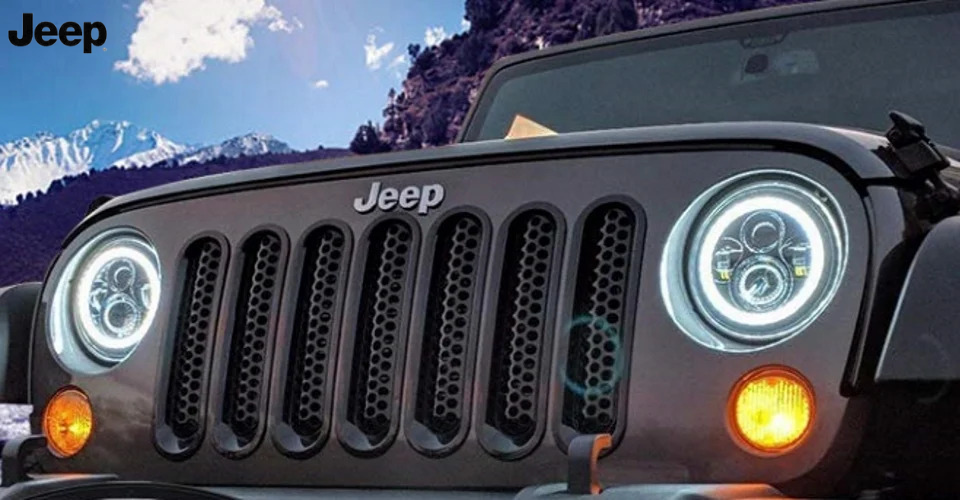 Jeep Wrangler headlights are certainly not the easiest thing to install. While it may seem like a simple task, once you get into it, you realize that there are many options and multiple parts involved. After all, Jeep Wrangler headlamps stand tall on top of their name and popularity in the market, thanks to its myriad of features available. If you are looking for Jeep Wrangler headlights, you can check for the following options available to install on your Jeep wrangler.
Jeep Wrangler Headlights
JW Speaker 8700 LED Wrangler Headlights
This LED headlight was designed to eliminate flickering caused by the Jeep electrical system using integrated anti-flicker technology. The JW Speaker 8700 Evolution J Classic is the world's first LED headlight to have anti-flicker technology integrated.
Each 8700 Evolution J LED light provides 1,350 raw lumens on low beam and 1,770 raw lumens on high beam, unlike most other LED headlights that require an anti-flicker harness.
As well as being compatible with most 2017-18 JK models that come factory-equipped with LED headlights, these lights have a black bezel and UV-resistant polycarbonate lenses.
Oracle Lighting 7-inch LED Headlights
These LED replacement headlights can be fitted with or without halo rings; halo rings come pre-installed in white, green, and color shift models. The LED headlights produce 3,600 raw lumens on low beam, 4,800 raw lumens on high beam, with color shifting. There is also a two-year warranty and high-output CREE LEDs in each light, as well as a die-cast housing with corrosion-resistant coating, heavy-duty solid-state electronics, and a hard-coated polycarbonate lens. These lamps are DOT compliant, and SAE certified and are easy to install with the included H4 to H13 connectors that come with warning cancelers. The color shift models are ideal for strobe lighting.
JW Speaker Evolution Dual Burn Headlights
Black or carbon fiber bezels are offered on the JW Speaker 8700 Evolution J2 series Dual Burn 7-inch LED replacement headlights with easy plug-and-play installation. For installation, there is no anti-flicker wiring harness required for the 8700 J2 Series Dual Burn 7-inch LED headlights, which come in pairs and are DOT-compliant. If you're looking to throw some extra light down the road, these LEDs are a great option.
KC HiLites Gravity LED Pro Headlights
It is DOT-compliant for street use and features low, high, and daytime running lights. The Gravity LED Pro 7-inch headlights by KC HiLites use CREE LED technology. It is DOT-complaint for street use and features low, high, and daytime running lights. The Gravity LED Pro 7-inch headlights by KC HiLites use CREE LED technology. They are definitely a serious upgrade over stock headlights, as we've used Gravity LED Pro 7-inch headlights in the past.
KC HiLites H4 Headlight Conversion Kit
These 7-inch round replacement lights from KC HiLites are street legal and DOT approved for the Jeep vehicles. The conversion kit is said to provide better performance and appearance than stock JK headlights. It features 55/60 watt H4 Halogen bulbs and the necessary H13 to H4 conversion connectors. Each 12-volt headlight draws only 4.58 to 5 amps and outputs 1,650 watts high beam and 1,100 watts low beam. They make a good choice for someone looking to upgrade their lights without spending a lot of money on LEDs because they feature a plug and-play installation, polycarbonate coated lenses, and KC's precision multisurface reflector optics.
Pro Comp 7-inch LED Headlights
It is a sealed beam lamp with a LED conversion that is designed to improve visibility at night, in dense fog, or under heavy rain. The plug-and-play LED replacement headlights are made of UV-cured chrome reflectors with protective coatings, hard-coated polycarbonate covers, UV-resistant acrylic lenses, and feature 20 Luxeon ZES LEDs.
With a built-in anti-flicker module and a die-cast aluminum alloy housing, each light produces a pure white light at a 6000K temperature. A limited lifetime warranty is included with the Pro Comp lights. They are compatible with H13 and H4 pigtails.
Putco Luminix LED Headlights
Putco offers aircraft-grade aluminum Luminix LED headlights for a truly unique look on your JK. The lights are said to provide 6,000 lumens per light, resulting in 12,000 lumens per pair at 5,500 Kelvin. This plug-and-play replacement headlamp assembly replaces the OEM Jeep H13 headlamp assembly.
Lights from Luminix feature high and low beam capabilities, as well as over and under voltage protection. The Putco LED headlights are covered by a three-year warranty and have an expected bulb life of 50,000 hours.
Conclusion:
As you go through the list, ask yourself what you want in a Jeep Wrangler headlight. With each of these options, there are many factors and details you should consider before making your final decision. For example, with LED lights, the color options vary widely so if you like the yellowish tint of the stock lights, you may need to find a headlight that offers that color rather than just white lights. Understanding these requirements will help you choose the correct option for your Jeep Wrangler.
In the end, the best choice will likely depend on your needs as a Jeep owner, and what you're looking for in a light. What's more, many Jeep owners have their own preferences as well. In other words, don't be afraid to try out multiple options if you can. There's no guarantee that one particular option won't have a light that strikes your fancy.
If you are looking for a brand new Jeep Compass Suv or any other jeep models then you can contact Jeep Nepal. Jeep Nepal is the authorized dealer of Jeep vehicles in all over Nepal. You can contact us or visit us at our showroom in Naxal and Basundhara, Come and Drive the Jeep of your choice with Jeep Nepal.