In the context of Nepal, off-road vehicles are the perfect SUVs to opt for. This is because still our country's road condition is mixed with modern highway and narrow path.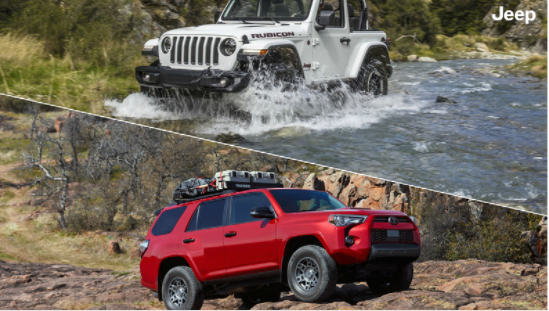 Many car owners in Nepal want to buy SUVs that perfectly suit all the weather and road. But, often they find it difficult to choose the best one among the multiple available options.
Thus, to guide you in this, we bring you the best off-road SUVs that you can consider for your next vehicles. On this list, you'll find all the hardcore off-roaders along with the classy and luxurious looks like Cherokee and Wrangler.
So, check out our list of best SUV in Nepal for off-road drive and find out which SUV you adore the most. After reading this article, if you prefer one for yourself, then feel free to contact Jeep Nepal for more information.
Wrangler Rubicon
The legendary Wrangler Rubicon is a truly unforgettable off-road SUV so far. It has been a crowd favorite since its inception due to its terrific off-road ability, fuel efficiency, and wide range of luxury options. Apart from this, the Jeep also comes with incredible safety features, new age technology like an Off-road kit, Trac-Lok rear, and the Rock-Trac 4X4 system.
Wrangler off-road capabilities SUVs are equipped with excellent off-road tires, tow hooks, large wheels. All these features make this Jeep the toughest off-road SUV. There is no road condition that Wrangler Rubicon couldn't handle. It can climb anywhere from rocky roads, to deep mud to snow way without getting stuck.
Jeep Grand Cherokee
The Jeep Grand Cherokee is another legendary off-roader with tough chassis and a luxurious body. Propelled by a 290 horsepower, patented Active Drive II four-wheel-drive system, V6 engine, all-wheel-drive, and 4×4 drive train, this SUV can deliver perfectly in sticky, icy, or deep mud conditions.
Jeep Grand Cherokee comes with comfy leather seats, a leather-covered dashboard, an Alpine sound system, and heated front seats.
Its other offerings are excellent holding ability in the roughest terrain, advanced safety features, and a great amount of cargo space. These features of Grand Cherokee are the reasons this SUV has remained top on what Jeep has to offer.
Jeep Renegade
The Jeep Renegade is another SUV associated with dirt roads and steep hill climbs. While every Jeep vehicle can go off-roading, the Renegade is the most capable.
The Renegade comes with raised off-road suspension, tow hooks, skid plates, hill descent control, all-terrain tires, and a specialized 4WD system with low-range gearing. Additionally, it also offers a Selec-Terrain traction management system, trim levels, and Active Drive Low system which makes the Renegade functionally more capable when going off-road.
Sleek and classy, Renegade has a rugged interior, unique exterior, good infotainment, and excellent safety features.
Jeep Cherokee Trailhawk
Another Jeep that remains an industry leader when it comes to driving off-the-beaten-path is Jeep Cherokee Trailhawk.
Fitted with all-terrain tires, wider wheels, tow hooks, skid plates, Trailhawk can cope with almost anything, on and off-road. It comes with increased ground clearance and exclusive upholstery.
Other important features of Cherokee Trailhawk are its tough differentials, good equipment, and monster engine quality. The interior and exterior are equipped with all conceivable luxuries for both passengers and drivers.
Wrangler Unlimited
Wrangler Unlimited is another SUV with plenty of off-roading features. With two available 4×4 systems, 32-inch tyres, stronger axle tubes, larger brakes, rugged steel skid plates; the Wrangler Unlimited has everything that hardcore off-roader has.
Along with the terrific off-roader, Wrangler offers top-notch premium comfort and safety features. It has a longer wheelbase, excellent interior and exterior, and wide cargo volume. The SUV is also loaded with plenty of preventive features like advanced front and side airbag systems, time-tested passive systems, and others.
Jeep Gladiator Rubicon
The emblematic Jeep Gladiator Rubicon is another best off-roader in 2021. Gladiator comes with excellent luxury and performance features, along with unforgettable off-road origins. It has a 3.6L Pentastar V6 engine that is able to produce 285 horsepower and maximum torque of 352 Nm to maximize efficiency.
The SUV comes with heavy-duty forged front and rear tow hooks, 11.1-inches of ground clearance, and right tires for traction. Additionally, Gladiator is also fitted with higher levels of articulation to ensure that all four tires on the ground remain engaged and stable.
Jeep Compass Trailhawk
The last off-road icon on our today's list is Jeep Compass Trailhawk. It is one of the most premium SUVs with trial-rated badges on the market today. The company has updated Compass Trailhawk with further advanced technology to tackle the rough terrain. This includes wider articulation, higher ground clearance, traction, water fording, and maneuverability.
The Jeep Trailhawk is powered by a Multijet II Turbo Diesel engine that produces 170hp@3750rpm and an impressive 350Nm@1750-2500rpm of torque. With a supple ride, quiet interior, and impressive exterior, Compass Trailhawk has everything that you desire in your SUVs.
Thus, if you want the best and affordable Jeep SUVs, then you can opt for Compass Trailhawk.
The Bottom Line
So, here are the best 7 off-road Jeep SUVs that are best suited for any road conditions. We've listed these SUVs noting their incredible off-road features, specific trim level, equipment configuration, and others.
However, note that Jeep updates their vehicles frequently, so some details here may vary in each model. And, if you want to know their recently updated features, then browse our site now.
Further, if you're an adventurous person, then you can surely consider it for your next purchase as all our recommended SUVs will not embarrass you when you take them off-road.
For buying, you can contact Jeep Nepal via our site. We are an official Jeep dealer in Nepal and our office is located at Naxal, Kathmandu. If you want to schedule the test drive before buying, then register here.
Disclaimer: Details and features provided and discussed in our Insights section across the website are general in nature. To discuss their availability in the model you are interested in, please talk to our customer support.