The all-new 2021 Jeep Wrangler Rubicon 4xe is ready to attract the industry with its deep bold looks and stunning performance. The Rubicon 4xe is the first plug-in hybrid electric vehicle offering open-air freedom, remarkable capabilities, fuel economy, and electric hybrid innovation. With all these strong features the legendary Jeep Wrangler Rubicon 4xe is capable of turning every ride into an adventure worth taking.
This guide is going to be a review of this legendary vehicle. Read this article till the end and find out if the 4WD Cars is exactly what you are looking for!
Design and Comfort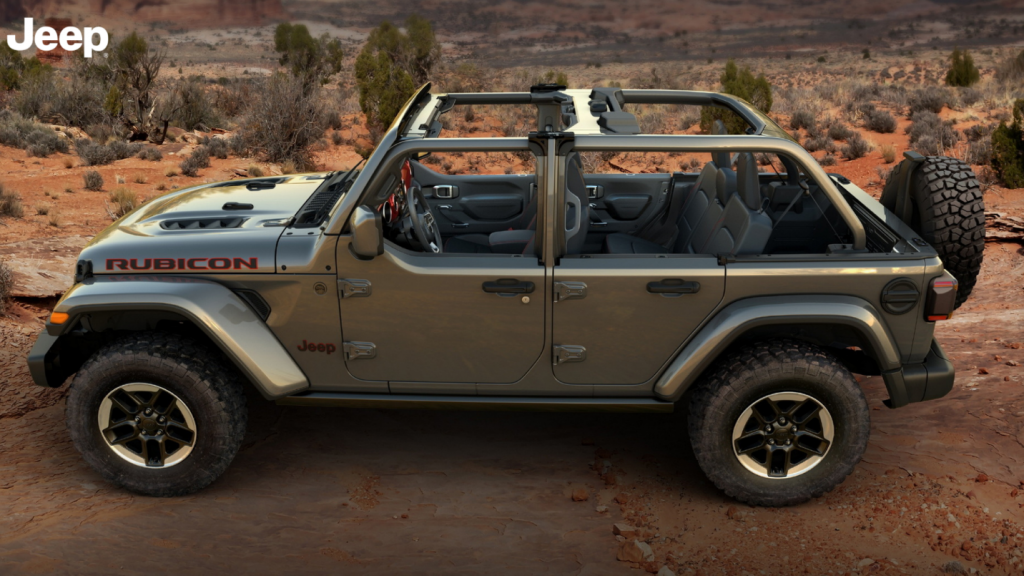 The 2021 Jeep Wrangler Rubicon 4xe not only looks good and rugged from the outside but is also unimpeachable with its spec chart. The 4xe is the second-most powerful Wrangler after the all-powerful 392 V-8 models.
Talking about its design, it looks somewhat similar to the other less-electrified wranglers visually. The Rubicon 4XE possesses the same iconic exterior looks but the Jeep badges, tow hooks, and interior stitching are furnished in a radiant color called Electric Blue. Other than that, the Jeep Wrangler Rubicon 4xe looks similar to other models.
The 4xe's interior combines the same friendly and familiar Uconnect infotainment system scattered over an 8.4-inch screen. The interior consists of smooth soft seats and most of the knobs and buttons operate with well-lubricated slickness.
Its backseat is comfortable and accommodating even with a battery underneath the lower cushion.
To make the ride more adventurous and nature friendly, the 4xe's doors are made removable and the windshield can be folded. Overall, the Jeep 4xe model combines a comfortable luxury ride with its bold, rugged looks and impressive off-road performance.
Speed and Swift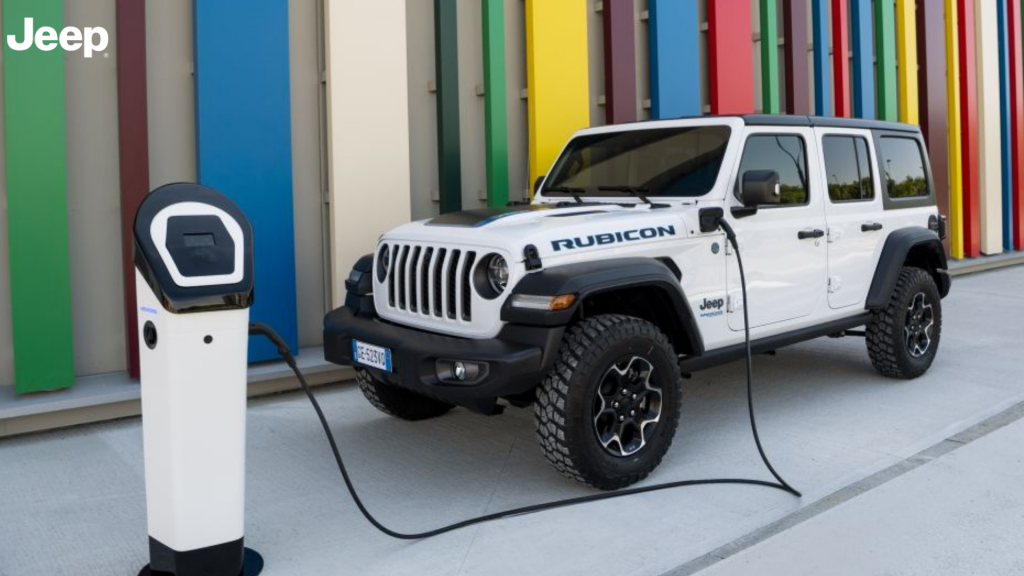 Wrangler Rubicon 4xe works best with a fully charged battery. The vehicle is known to hit 60 mph in 6.8 seconds in the rear-drive when fully charged.
This is very quick for a Wrangler but is 0.8 seconds slower than what the Jeep asserts. The Rubicon 4xe is the heaviest Wrangler among its trims being 200 pounds heavier than the chunky V-8 wrangler unlimited Rubicon 392 and 261 pounds heavier than a diesel-powered Unlimited Rubicon.
Without its battery charged regularly, the 4xe can become quite slow. If you ask how long the battery lasts, it entirely depends on how you drive. On a full tank and a full battery, Wrangler 4xe should run 370 miles.
That being said, when you charge regularly, you will probably be able to save about $300 a year or more on fuel costs in contrast to the most efficient Jeep Wranglers.
Off-Road Performance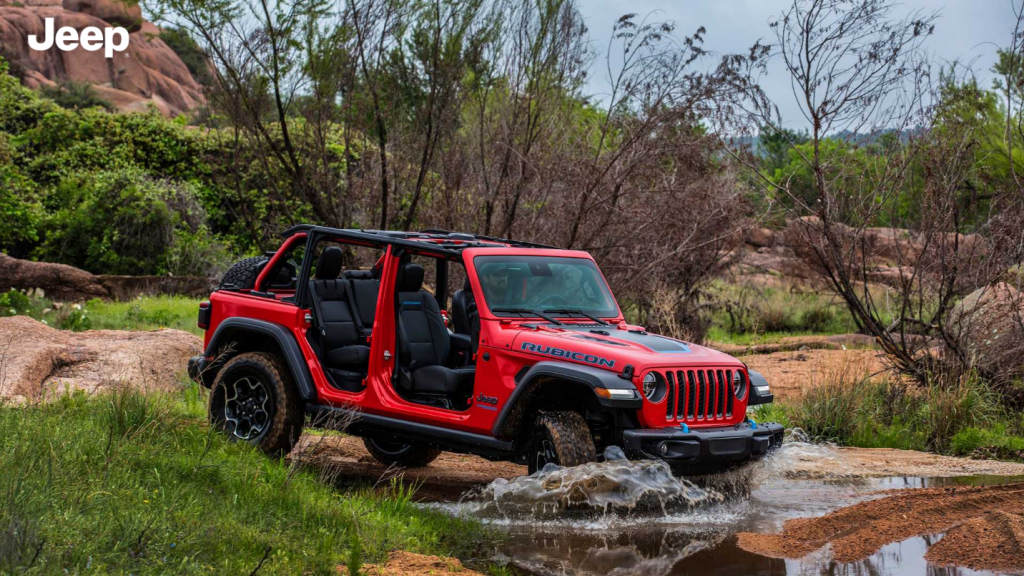 The Wranglers without doubt are the most powerful off-road vehicles out there and the 4xe model is known to be stronger than its fellow trims.
The Rubicon 4xe had shown no issue climbing some of the toughest trails, steep hills, and often the big rocks and deep holes. A 2.0-liter turbocharged four-cylinder paired with an eight-speed automatic transmission is available to give you a smooth and free-revving ride. Entirely the drivetrain provides 375 horsepower and 470 pound-feet of torque.
The vehicle is enabled by a plug-in hybrid drivetrain with the courtesy of a 17-kilowatt-hour lithium-ion battery firmly fixed underneath the backseat. The lightweight pack provides you with hours of off-road fun. Needless to say, if you head too far down the trail and consume the 4xe's electron reserves, you still have an internal combustion engine to get you home. After all, these features make a Wrangler Rubicon go places most trucks and SUVs couldn't dare.
Fuel Efficiency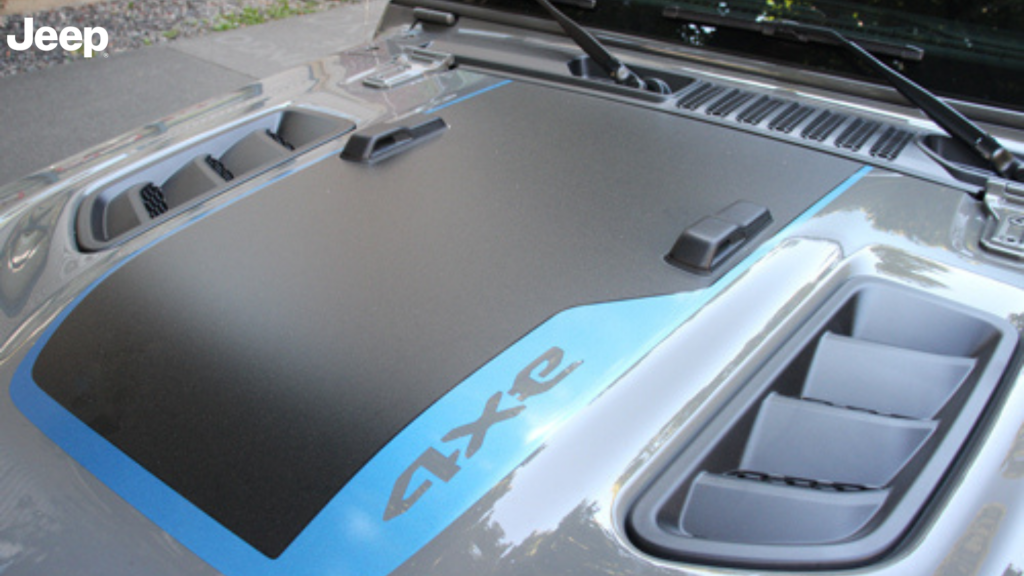 The Wrangle Rubicon 4xe is by far the most fuel-efficient off-road vehicle. Its battery and hybrid powertrain components add consequential weight, that balances the Wrangler 4xe's performance capability and gas-only fuel economy.
However, it is essential that you charge the Jeep Wrangler Rubicon 4xe regularly, or else you can get a much worst fuel economy in return. Make sure you plug the model the correct way, use the well-suited plug and remember to charge it regularly. This way you can experience its advantage at its full.
Should You Get The 2021 Jeep Wrangler Rubicon 4XE?
As you already read in the article, there is no doubt that the 2021 Jeep Wrangler Rubicon 4XE is an incredible Jeep model that can offer you some of the best advantages, be it off-road or for regular use.
It is what Jeep claims to be, strong and efficient, but only if you know how to use it. If you are just going to ride it like a normal hybrid and never plug it in, you might consider buying yourself a different Wrangler.
There is no doubt that the vehicle is possess outstanding features and capabilities. In fact, all the Jeep Wrangler trims are a great asset and work as an important tool for the future. And if you are committed to using the 4xe in the right way while this might be the perfect vehicle for you.
Conclusion
It can definitely feel odd to see an electric charging cable plugged into its side but you can expect a bold and exciting experience with your every ride with the 2021 Jeep Wrangler 4XE. With its stunning design, removable doors, battery performance, and fuel efficiency the Jeep Wrangler Rubicon 4xe seems to be one kind you would love to ride in the future.
To know more about other Jeep models and Jeep price in Nepal, explore our site or visit our showrooms in Nepal. Call Us Today to Schedule a test drive from any dealerships in Nepal.