Jeep is already known for its rugged and capable SUVs, but the announcement of the new Jeep Meridian has brought a new dimension to the company. The Jeep brand has launched the new Jeep Meridian at a time when it needs to find its second volume seller in the highly sought after 7-seater family SUV space.
The SUV for the extended family has become a staple in many brands' portfolios. The 3-row, 6–7-seater SUV now has such a lot of demand, that many car makers are unable to make enough, and long waiting periods are common. The Meridian is huge when you view it from the side.
The length almost seems a bit unwieldy, making me wonder if it will be as capable off-road as the Jeep Compass SUV. The rear overhang is pronounced and quite a jump over the 2-row Compass. However, the approach, breakover and departure angles have apparently been carefully calibrated with an eye on endowing it with the same legendary prowess of a Jeep.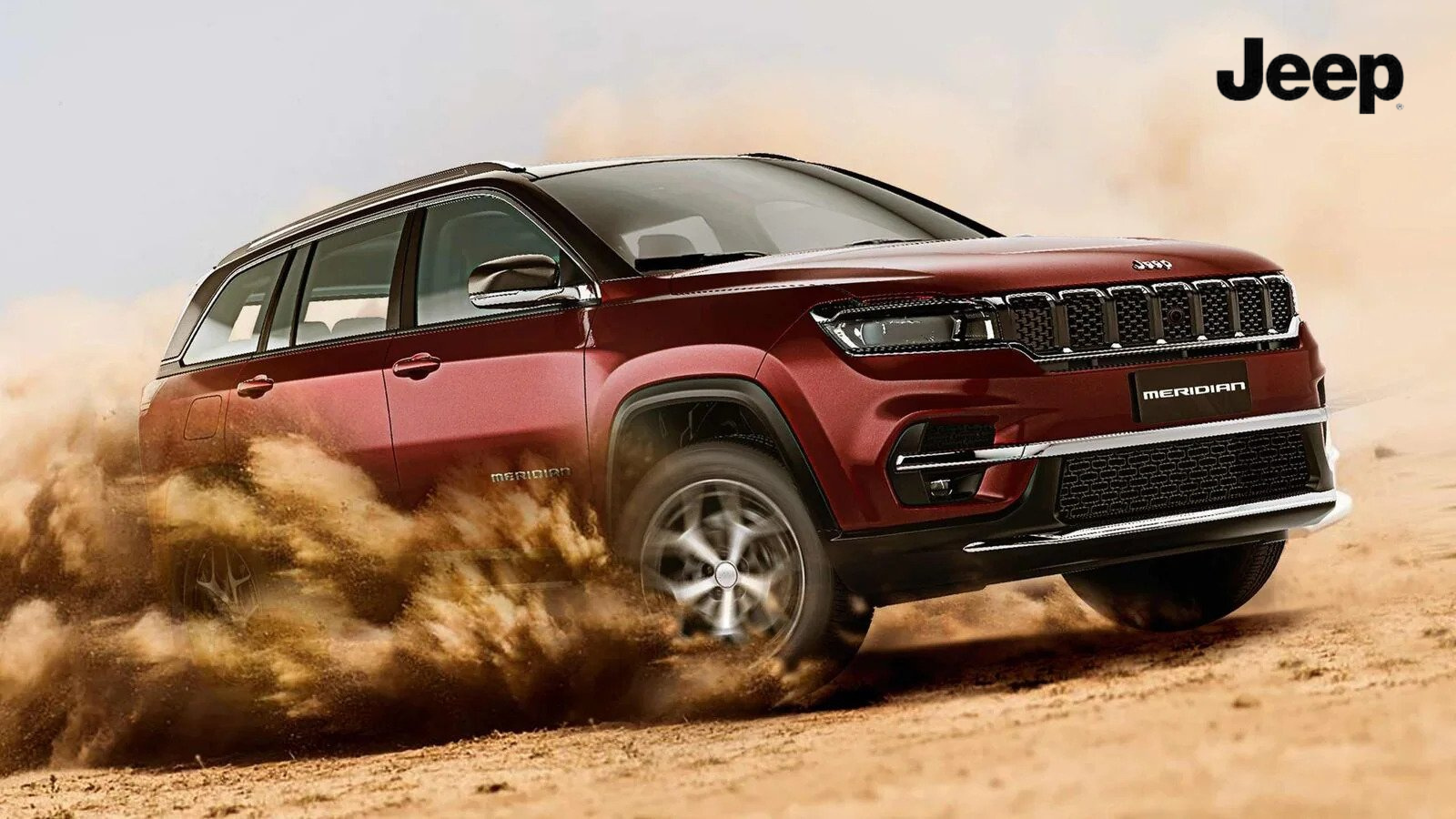 The Jeep brand has a rich history of off-road capability that is still going strong today. In fact, the Jeep brand continues to sell vehicles that can get you through some pretty tough terrain. The 2022 Jeep Meridian is one such car. While this one isn't getting packed into its vehicle's carrying capacity, there is no denying that it still provides plenty of power, versatility, and comfort for just about anyone in your family or group.
It's the time for a review about a new vehicle, the 2022 Jeep Meridian is a small, stylish crossover that hopes to steal some of the attention from other vehicles. Is the Jeep Meridian an off-roader capable of tackling any terrain? Read this review to learn more about this tough crossover SUV.
Jeep Meridian Specifications Summary:
| | |
| --- | --- |
| Fuel Type | Diesel |
| Dimensions (L x W x H) | 4769 x 1859 x 1698 |
| Engine displacement | 1956cc |
| Transmission | Manual / Automatic |
| Maximum Power (ps) | 170 |
| Mileage | 15.3 kmpl |
| Seating capacity | 7 |
What's New for 2022 Meridian?
The 2022 Jeep Meridian is a new entry-level model from the company, which will be available in both manual and automatic transmissions. With the higher-end model, you get a dual-pane sunroof, powered tailgate, 10.2-inch digital MID, plus more. A 6-speed automatic gearbox sends power to the front wheels, while a nine-speed transmission sends it to all four wheels.
Jeep's 2022 Meridian is a high-performance SUV that's designed for fun. It's a bit larger than the Grand Cherokee, which is a good thing if you're looking for something that can haul more than four people or their luggage around town. But it's also more expensive, so if you're looking for something to take out on the highway and enjoy it.
The new Jeep will also offer an optional third row of seats (which can be folded flat) as well as an optional folding third row. In addition, the vehicle has been designed with a brand new look that gives it a more modern appearance than previous models.
Design and Dimension

The All-new Jeep meridian is somewhat similar to Jeep Compass. As it is built upon the Compass nameplate, the Meridian is often referred to as a 7 seater version of the Compass. A new grille, headlights, bumper, and of course all the parts inside are also a part of the redesign.

The Meridian's design and styling change quite dramatically once you walk past the front doors, and the difference between the Meridian and the Compass becomes immediately apparent. The rear three-quarters of the car feature straight lines and box-like design cues.

The Meridian's rear-three-quarters are strongly reminiscent of its larger brother, the Grand Cherokee. Although the Meridian's rear-three-quarters don't slope downwards, the rear windscreen is near 90 degrees. Aside from its considerable length, which is 4796 mm, the Meridian is also noticeably wider and taller than the Compass at 4405 mm. But what is most notable is the Meridian's wheelbase, which is 2782 mm, which is about 146 mm longer than the Compass 2445 mm.
| | |
| --- | --- |
| Length | 4769mm |
| Width | 1859mm |
| Height | 1698mm |
| Wheelbase | 2782mm |
| Boot Space | 233L |
| Ground Clearance | 214mm |
| Fuel Tank | 60L |
| Tyre Size (Base Variant) | 245/60 R18 |
| Tyre Size (Top Variant) | 245/60 R18 |
Engine and Performance
The Jeep Meridian 2022 comes only with the diesel variant which is powered by Jeep's familiar 2.0-liter turbo-diesel engine. It comes paired to a six-speed manual or a nine-speed automatic transmission.
The Meridian shares the same powertrain with its younger sibling, but it feels quite different from the Compass when it comes to performance. Engine outputs are the same, but they are delivered in a very different manner.
The Meridian is said to offer a smoother drive than its smaller sibling probably due to different ECU maps, engine calibration, or even revised injection timing. Jeep claims these changes were made to smooth out the drive. The Compass feels faster off the line, whereas the Meridian delivers torque more measuredly and gains momentum more gradually. The Meridian feels the tug until about 4500 rpms. It is claimed to do 0-100 in 10.8 seconds. Despite this, the Meridian is still comfortable and can reach serious speeds. You'll be able to reach speeds of up to 198 kph!
A noticeable weakness of this car is its laziness. It is slow-shifting and has a relatively high gearing. This might not make it a very pleasant car to drive in cities and in slow traffic. This car is extremely comfortable and engaging on the highway. It can be driven all day and not get bored or tired. The first gear here is very low, making it an ideal highway car. The vehicle usually starts off in second gear on most roads. This is most prevalent in 4×4 drive scenes.
While other 3-row SUVs in its price and size segment offer petrol engines, the Meridian's size and weight make the diesel's torque delivery at lower rev levels and more usable. The Meridian will, however, lack a petrol engine; the Compass 1.4-liter turbo petrol might not be sufficient for the Meridian's requirements. So, the Jeep gets the same 2-liter multijet Il turbocharged diesel motor as the Compass, and in a similar configuration.
With a 170hp engine and 350Nm of peak torque, the Meridian 4X2 is offered with a 6-speed manual transmission or 9-speed automatic transmission, while the top-trim Meridian Limited 4X4 (four-wheel drive) is available only with an automatic transmission.
Interior Space and Quality
The Meridian's interior is similar to its bigger brother, the Compass. This means it has a well-designed dashboard with a 10.25-inch digital instrument cluster that can be customized. Additionally, it comes with a 10.1-inch touchscreen infotainment system with Apple CarPlay and Android Auto functionality. The cabin is ergonomic with plenty of storage space.
The quality of the materials and plastics is great, and it feels luxurious too with premium touches like brushed aluminum, piano black accents, and tan leather
Exterior Features
LED taillights
Panoramic sunroof
18-inch alloy wheels
A tailgate that detects obstacles and does not pinch when opening, and can be adjusted in four different heights
LED headlamps with adaptive front-lighting system
LED DRLs with integrated turn signals
Interior Features
Dual-zone auto AC
Amazon Alexa voice commands
Roof-mounted 3rd row AC vents with 30% faster cooling than the competition
Brown coloured soft-touch material on the dashboard
Brown coloured leather upholstery
10.25-inch full-colour LCD instrument cluster
Front ventilated seats
Power adjustable driver seat with lumbar support and memory
A 10.1-inch floating touchscreen infotainment system as standard
Wireless phone charger
Power adjustable passenger seat with lumbar support
Safety Features
ESC (electronic stability control)
All variants come with 6 airbags as standard
Hill hold assist and hill descent control
Emergency parking brake
Hydraulic brake assist
Brake disc wiping
Active traction control
Vehicle stability management
Rollover mitigation
Functional Features
Electronic parking brake
Terrain modes
Reclinable 2nd row up to 29°
Reclinable 3rd row up to 32°
80° opening rear doors
60:40 split 2nd-row seats
50:50 split 3rd-row seats
Frequency selective dampers.
Conclusion:
With the amount of attention garnered by other top-selling models from Jeep, the all new 2022 model has set its sights on a new demographic that wants to venture out off-road but forgot the rugged appearance of other SUVs like Compass or Cherokee.
Overall, the new Jeep Meridian is a well-rounded vehicle that has been designed to compete with some of the best in the segments. Improvements on the interior comes at the expense of toughness or off-road ability. It addresses all its competitors' weaknesses and is even better at what it does best – navigating through rough terrains. It's a great vehicle for both on the road and off-road driving and is the ultimate in terms of off-roading can provide an on-road multipurpose feel.
If you do decide to opt for any of the Jeep vehicles, then you can contact Jeep Nepal. Jeep Nepal is the authorized showroom for Jeep vehicles in Nepal. Its showroom is located at Naxal and Basundhara in Kathmandu and offers a wide range of attractive Jeep vehicles. You can plan a test drive from the official website of Jeep Nepal. Book your test drive to feel the power of Jeep!